Is life all about fulfilling your needs? Must you simply relax and take it easy after your needs are covered? You're definitely not optimizing yourself if you live this way.
There are three requisites of success: one, your God-given talent; two, a platform of opportunity; and three, the effort that you put forth to make things happen.
How many people have the God-given talents that you have? Maybe we're not all the same. Maybe there are people with fewer talents compared to others. However, I still believe that talent-wise, God has given most of us what's necessary.
Where do we differ? In the two remaining areas.
Not everyone has a platform for opportunity. Sometimes we're talented but we aren't planted in a place where we can thrive and where our talent can be of value. Some people are talented, and while they're planted in places where they can thrive, they don't exert much effort. They just give "what is necessary" and don't maximize their potential.
Seek and seize opportunities where you have the capability to prosper. God has blessed you with the strength and the capacity to become productive. If you can push for massive effort, you can optimize and become abundant.
Does this mean that after you fulfill your needs, you need to stop because you're done? I don't think so. I am convinced that there are people who are considerably blessed with the first two requisites and must push themselves to test the limits of excellence because they need to help others who will never be in the same position.
Many people in the world don't have the same talent that you have or have not yet found that platform of opportunity that will make them successful. So you need to make the most out of your potential, become abundant, and give to the people who will never be as blessed as you. No matter how much effort they put in, if the two first requisites are not there, they will fall short.
If hard work and effort ensure wealth, then many poor people in the Philippines will be millionaires. Many of our countrymen are hardworking. But will they become as prosperous as those in the upper echelons of society? The platform for opportunity is not available for many of them. That's why those who are or will be in great positions within the three requisites have the duty to optimize, maximize, and become blessings to others.
If you stop your journey to excellence, what does that mean? For me, deciding to stop is being selfish. I am being selfish because I have opted to relax, just because I have all that I need. Even if I choose not to be productive today, I will still be well off, probably until the day I die. But I'll miss out on the opportunity to make a difference, to prosper others, to contribute to people and communities that would never be able make it no matter how hard they try.
So the realization is that whatever you earn or accumulate will eventually not be as important as the person you become.
The person who lives by a purpose well beyond his personal needs is not just a rich person but also an enriched person.
When you begin to embrace the unpretentious concepts of legacy and significance, you will become a different person. You will become a real, true man for others.
This article is an excerpt from the book, Trailblazing Success: Ignite Your Corporate Career, Business and Influence by Rex Mendoza.
Featured photo by Jared Sluyter on Unsplash.
---
Do you long for meaningful success in your career, business and leadership?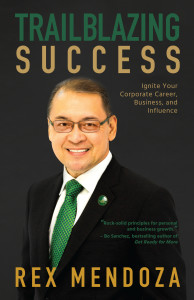 Packed with wisdom and powerful insights, this book will set you up for success.
Whether you are an employee, executive, entrepreneur, or student, there is a lesson for you to learn. The author is a living testament that you can be all that you set out to be.
From his humble beginnings as an employee and insurance agent, to his rise as CEO of a multinational company, a successful entrepreneur, and a prosperous investor, Rex takes you on his life journey and along the way equips you with the tools you need for your own success.
You will also learn leadership lessons that you need as you move from one stage of your career to the next.
Soak in the wealth of insights from this inspiring leader who honors God and is loved by those whose lives he has touched. Follow best practices that Rex generously shares to catapult you in your career, business and family life.
Get your copies now! Click HERE to get a copy of Trailblazing Success by Rex Mendoza.

---

GET MENTORED BY THE EXPERT!
GET YOUR COPY OF REX MENDOZA'S
TRAILBLAZING SUCCESS
You don't even have to leave the comforts of your home. You can buy your own copies online!

Here's how:
FOR PAPERBACK and DIGITAL versions:
Visit www.KerygmaBooks.com/shop and click on the titles that you want to order.
Choose PAPERBACK or DIGITAL and check out your order.
Choose your payment method.
Pay via bank deposit or PayPal.
a. For bank deposit: pay your balance and upload your deposit slip at the link we've e-mailed to you upon placing your order.
b. Pay directly via PayPal.
For PAPERBACK: Wait for the books to be delivered right to your home! (For orders P500.00 and up, FREE shipping within Metro Manila only. Standard shipping rates apply for orders below P500.00 or outside Metro Manila.)
For DIGITAL: Wait for the confirmation of receipt of payment. The download links to your books is included in the email.