---
"You alone created my inner being. You knitted me together inside my mother. I will give thanks to you because I have been so amazingly and miraculously made. Your works are miraculous, and my soul is fully aware of this."
– Psalm 139: 13-14
---
God Doesn't Make a Big Deal Out of Your Weaknesses and Failure
by Bo Sanchez
Just a friendly warning. You might get so engrossed in fixing your personality weaknesses, you'll worsen the problem. (Anything that you focus on gets bigger.)
Here's the truth: God doesn't make a big deal out of your weaknesses and failures. He just doesn't.
Mothers, do you remember how you taught your babies to walk? You planted your knees on the floor, and with your most dazzling, most charming smile, you said, "Come, come, come!"
And your baby, with his fat, wobbly legs, holding the couch, finally stands… and does he walk? Of course not. He crawls to you like a puppy.
Mommy, do you make a big deal about his failure to walk?
Of course not. You laugh, carry him, blow on his tummy and make funny noises, kiss his cute face all over, and prop him near the couch again for another try…
Mommy, where did you get that attitude?
That didn't come from you.
You got that from God.
God is like that. He knows you have weaknesses in your personality. It's not a big deal for Him. Because He knows you'll be getting better and stronger and taller and wiser…
I've seen sharks (cholerics) who are as passionate and strong-willed as ever, but by of God's grace, have become loving sharks. They become the best leaders. I've seen dolphins (sanguines) that are as cheerful and sociable as ever, but by God's grace, have become more organized. I've seen oysters (melancholics) that are deep thinkers as ever, but by God's grace, are more optimistic. I've seen turtles (phlegmatics) that are as calm and contented as ever, but by God's grace, have become fantastic leaders.
Nothing Is Impossible with God
Let me get personal here.
People are shocked when I tell them I'm a phlegmatic. "Bo, that's impossible!" they tell me. "You're always talking in front of people, so you must be sanguine. And you're a leader of many organizations, you must be choleric. You can't possibly be phlegmatic."
But I am.
Even when I was a baby, my mother told me that I was a low-maintenance baby. She'd put me in a carton box beside the laundry woman and I'd just stay in that box the whole day. I was content with myself, happily playing with my toys, observing what was going on around me.
I even have a picture to prove it…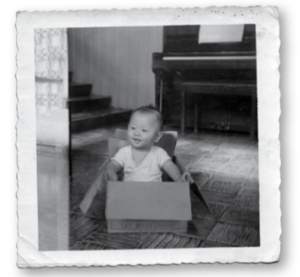 Today, I haven't changed. That quiet, calm, low-maintenance baby is still in me. My wife tells me I'm a very quiet, calm, low-maintenance husband. She just lets me be inside my "box," which is my home office. And I'll be happy writing, reading, thinking and creating.
That's why I believe nothing is impossible with God.
A phlegmatic isn't a natural leader. A phlegmatic is a natural follower, supporter, listener, and mediator. But here I am, preaching for almost 40 years now, leading a number of gigantic ministries and businesses.
But God made me phlegmatic for a purpose. Because I'm phlegmatic, I keep listening and keep learning. That has become my strength. I'm a sponge, absorbing wisdom from others. I keep growing! And because I grow, the organizations I lead keep growing as well.
I'm also a melancholic, so I'm a natural pessimist. And for years, I was one. Once upon a time, I'd wake up looking at the dark side of life. But through the years, God has transformed my weaknesses. Today, everyone who talks to me says I'm an incurable optimist. They say I always look at the bright side of life. That's the gift of God.
I repeat: There is nothing impossible with God!
God can transform your weaknesses.
Surrender yourself to God today!
And your purpose will be fulfilled through your unique personality.
Anatomy Class: Different Body Parts
In Ephesians 4:16, it says, "From him the whole body, joined and held together by every supporting ligament, grows and builds itself up in love, as each part does its work."
What does that mean? We're the Body of Christ. And each part is different. I believe the mouth of Christ are the dolphin sanguines, speaking God's love to the world. The feet of Christ are the shark cholerics, to lead us towards God's direction. The mind of Christ are the oyster melancholics, to help us think God's thoughts. And the hands are the turtle phlegmatics, quietly working God's ministry in this world.
God made you "you" for a purpose. The world needs you to be you.
So be you!
Pray this Psalm with me…
You made all the delicate, inner parts of my body and knit me together in my mother's womb. Thank you for making me so wonderfully complex! It is amazing to think about. Your workmanship is marvelous. You watched me as I was being formed in utter seclusion, as I was woven together in the dark of the womb. (Psalm 139:13-16)
This excerpt is taken from You're Weird (In a Wonderful Way) by Bo Sanchez.
Photo from Pixabay.com
---
 So many people today don't like themselves. They're ashamed of many parts of their life. And they're actually very nasty to themselves. They neglect their own needs, they're addicted to toxic stress everyday (which is slow suicide), they don't respect their limits, and they stay forever in poisonous relationships.
In this life-changing book, bestselling author and spiritual leader Bo Sanchez offers the solution: To give yourself permission to be you. To embrace your past, your pains, your personality, and your purpose.
Through this book, you'll learn to relax more, love yourself more, and find your place in the world.
---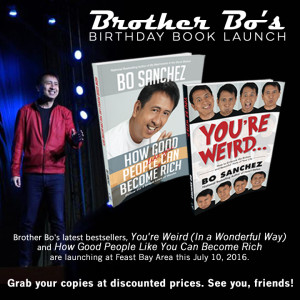 Were you blessed by this article? Would you be surprised if we tell you that this came from a book that we will launch this Sunday?
ARE YOU READY TO LEARN TO EMBRACE ALL THE BROKEN AND BEAUTIFUL PARTS OF YOUR LIFE?
THIS COMING JULY 10, 2016, WE WILL BE LAUNCHING BO SANCHEZ'S TWO OF THE MOST POWERFUL BOOKS YET, ENTITLED
YOU'RE WEIRD (IN A WONDERFUL WAY)!
and
HOW GOOD PEOPLE LIKE YOU CAN BECOME RICH
Get this book bundle for P500 only. Grab your copies at discounted prices! See you, friends!
Coming soon at www.kerygmabooks.com/shop and all leading bookstores nationwide.
WATCH OUT FOR IT!
---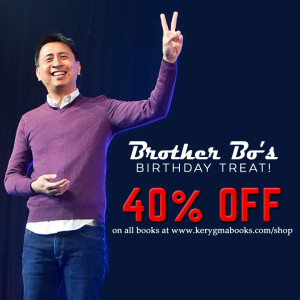 July is Brother Bo's birth month! As his treat to all of you, Kerygma Books is giving you 40% DISCOUNT on all books (Paperback) and 20% DISCOUNT on all Ebooks when you shop online at www.KerygmaBooks.com/shop.
HURRY! Promo is from 12MN on July 11 and ends it at 11:59PM only. Go to www.KerygmaBooks.com/shop now!
Buy now and give Brother Bo the happiest birthday!
---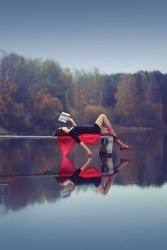 NURTURE YOUR SOUL EVERY DAY!
Visit us at

www.KerygmaBooks.com/shop

 and read our online magazine. Enjoy fresh articles that will surely nourish, inspire, and empower you in all aspects of your life. Kerygma Books is updated weekly.
Email us at www.KerygmaBooks.com for comments, suggestions and contributions.
Photo credit: http://piccsy.com/2011/05/reading-8ozcw6p11/ through vi.sualize.us