When God Says No
by Fr. Bob McConaghy
Robert H. Schuller wrote a book, Positive Prayers for Power-Filled Living, where he talked about the different ways God answers our prayers. He said that when you are not right, God says, "No." When the time is not right, God says, "Slow." When you are not right, God says, "Grow." And when everything is all right, God says, "Go."
Sometimes the most loving thing that you can say to somebody is "No." A guy says to his girlfriend, "If you love me, you'll sleep with me." But he's really just thinking about his own needs. She loves him enough to say, "No, that can destroy our relationship. Why would you want to put me at risk if you really love me?" (By the way, this is how I think we should view questions on sexuality — in the context of real love.)
If you really love somebody, would you want to jeopardize that person's relationship with God? Would you want to put her at risk emotionally? Because if you make love to a woman and then break up with her, that can hurt her so much that she may never trust again. Would you want to put a person at risk physically? That they could get a disease or get pregnant? If you really love someone, you are willing to put off what you need right now so that your love can grow in the future and there can be intimacy. The same is true in prayer. When what you ask for is not right, God says, "No." Why does He say no? Because He loves you.
Now you might raise a question here and say, "Well, God's not going to change His mind anyway. If I pray to Him and His will be done, His mind is made up. I can't change God, can I?" That's a good question. Can God be changed by our prayer? And if He can't be changed, is that why He's saying "No"?
Partly.
If you look at the book of Deuteronomy, God says, "I, the Lord God, cannot change." But if you look at the book of the prophet Jeremiah, He says, "My heart is moved within Me." so if His heart is moved within Him when someone prays, maybe that says He can be moved to change His mind. Yes, God is unchangeable. But what does John tell us? "God is love." and in that way, He cannot change. God can never not love, because not to love is a sin and God is incapable of sin. God will always love you.
What happens in a loving relationship? People's hearts can be moved within them. So also, God's heart can be moved by our prayer, and His response will always be a loving response. And sometimes the most loving response will be no.
Why would an 85-year-old woman be cured of cancer and a 10-year-old die of cancer? Where is a loving God in the midst of all of that? We don't know. But one thing we do know is that the answer to that prayer — yes or no — is intimately bound up with their salvation.
My Father's Miraculous Healing
My dad got very sick back in 1984. His kidneys shut down and he was in a coma. He was 76 years old. The doctor said, "Well, there's a chance he can live." but me being a priest and used to seeing people in that condition, I didn't think he was going to make it. So I gave him the sacrament of the sick, but in my mind I thought I was giving him the Last Rites. I gave him absolution for all of his sins and I prayed that his death would be painless.
But God said no. They took him off his ventilator and he began to breathe on his own. They moved him from the intensive care unit that he was in for three weeks into a regular room. They had a shunt in his arm to do dialysis, but the doctor came in and said, "We can't explain it. Your father's blood work was way out of whack. They're normal now. His bun-to-creatinine ratio, normal." He added, "But the thing that really baffles us is that his kidneys were dead." They call it end-stage renal failure. This kind of condition is permanent. But my dad's kidneys were working again. They came back to life. "It's a miracle," the doctor said.
The sacrament of the sick can sometimes bring physical healing. And if there isn't a physical healing, an interior healing takes place where the person will be able to at least deal with the reality that they're dying.
But my dad got well. When I tell this story to congregations, most people would say, "Yes. God is good all the time." But there are always some with a look on their face that said, "Oh, sure. The priest's father gets the miracle. What about my father? I prayed for him. He got the sacrament of the sick and he died. So God said yes to Fr. Bob's prayer and no to mine."
No, God didn't answer my prayer. Remember what my prayer was? That my father would die peacefully. But God said, "No, your father is going to live."
Three years later, my father got lung cancer. The cancer spread to his brain. I gave him the sacrament of the sick again, and this time, I prayed for a physical healing. God said no.
When he died, it wasn't a poignant Hollywood scene. The brain cancer changed his personality and he was nasty to the whole family, including me. The last three days of his life, he cursed at us. That wasn't my father. But God answered my prayer when He gave my father the greatest miracle that He can give anybody — eternal life.
So when what you ask for is not right, God says no, not to punish you but because He loves you. And somehow it's intimately bound up either with your or somebody else's salvation. One day, when we go to heaven, I think it will be a great, "Aha! Now I get it!" Then, all things will be clear to us. There will be no questions. But in the meantime, we have to accept a "no" as God's way of saying, "I love you."

This excerpt is taken from CLOSER: Pray Your Way to Intimacy with God by Fr. Bob McConaghy

GRAB YOUR COPIES HERE!
Photo by Joshua K. Jackson on Unsplash.
---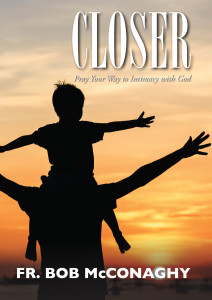 YOU ARE KNOWN AND LOVED BEFORE ANYONE
KNEW YOUR NAME.
That's hard to imagine in a world that's getting more and more connected through technology while fostering virtual, shallow relationships. We are fast losing our ability to be intimate.
That's why Fr. Bob McConaghy's book is timely. He reminds us that God loves us intimately and calls us to draw closer to Him. God wants to spend time with us. He wants us to know Him in a deeper way. And the way to do that is through prayer.
In these pages, you will learn to:
– Pray even when you don't feel like it
– Unleash the redemptive power of suffering
– Make sense of God's answer when He  seems to be saying no to your prayer
– Grow your soul even during painful times
– Appreciate the real presence of Jesus in the Eucharist as you have never done before
And many more truths that will make prayer a joyful and personal experience with the Living Lord.
GRAB YOUR COPIES HERE!
---
ARE YOU READY TO TAKE YOUR RELATIONSHIP
WITH THE LORD TO A HIGHER LEVEL?
GET YOUR COPY OF FR. BOB MCCONAGHY'S BOOK, CLOSER: PRAY YOUR
WAY TO INTIMACY WITH GOD
You don't even have to leave the comforts of your home.
You can buy your own copies online!
Here's how:
FOR PAPERBACK and DIGITAL versions:
Visit www.feastbooks.ph and click on the titles that you want to order.
Choose PAPERBACK or DIGITAL and check out your order.
Choose your payment method.
Pay via bank deposit or PayPal.
a. For bank deposit: pay your balance and upload your deposit slip at the link we've e-mailed to you upon placing your order.
b. Pay directly via PayPal.
For PAPERBACK: Wait for the books to be delivered right to your home! (For orders P1,500.00 and up, FREE shipping within Metro Manila only. Standard shipping rates apply for orders below P1,500.00 or outside Metro Manila.)
For DIGITAL: Wait for the confirmation of receipt of payment. The download links to your books is included in the email.