Temptation Don't Come Alone by Bo Sanchez
I'd like to share a simple story of a recent temptation.
If you're an entrepreneur, you might relate with this. I run two small businesses that have a total workforce of more than a hundred people. In the past three years, our profits were going down. Overhead cost was squeezing our profits.
So I had this temptation. To clarify, it wasn't a strong one. I'll explain later why it wasn't strong, but it was real. So real, my wife and I would playfully talk about it during lazy Sunday afternoons.
I'd tell Marowe, "There are days when I'm tempted to fantasize about closing down our businesses. They're a headache. If we live simply enough, we can survive on our investments."
And it wasn't just one temptation.
Three Temptations in One
It was a set.
The devil's first temptation: "Things before people."
If money was my first priority in life, I'd stop my businesses in a heartbeat.
And the devil's second temptation to "play God"?
When my profits were going down the past three years, I found myself complaining, "Lord, why are You not blessing me? I'm tithing, I'm serving, I'm loving—where are Your promised rewards?" Why wasn't He my genie? I rubbed the lamp. Why aren't my wishes being fulfilled?
But I decided to trust Him.
I believed there was a purpose. And the devil's third temptation to me was to "skip the cross."
This was obvious. The temptation was to be selfish— to think of myself, take it easy, and relax.
Thankfully, they weren't strong temptations for four reasons.
First, because I love my staff. If I close my business, I will survive, but my staff won't. I need to continue this business because there are more than a hundred families to feed. It's true that my staff work for me. But in a real sense, I—the owner—work for my staff.
Second, because I love my customers. I want to keep serving them.
Third, because I know who I am: I'm a God follower.
And God followers sacrifice.
God followers serve.
And I'm going to be true to who I am.
By the way, this story won't be complete if I don't tell you this little epilogue: Starting this year, my small businesses are slowly turning around, and because of my staff 's hard work and perseverance, our profits are growing again.
*This excerpt is taken from We Are At War: How to Fight and Win Over the Enemy by Bo Sanchez, ebook and paperback versionavailable at www.feastbooks.ph!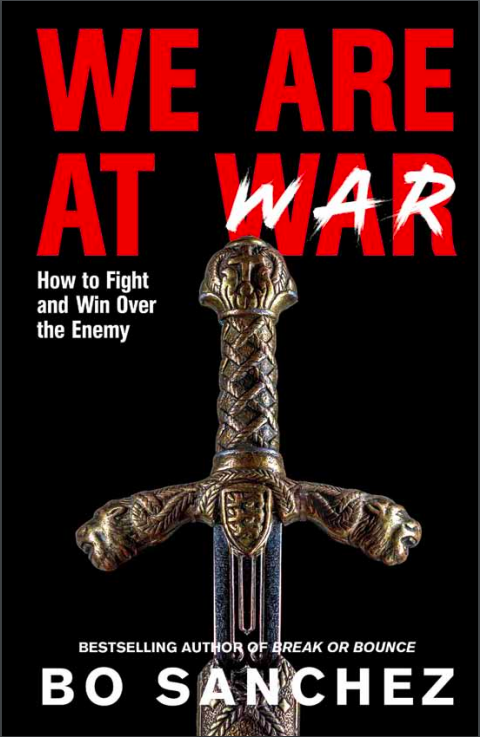 Featured image is from Unsplashed.com.