"Who among you don't have debts?" This is a question that Fely and I always ask when we conduct financial coaching seminars all over the Philippines and Asia. More often than not, no hands are raised. I can't blame the crowd. When we were asked the same question at a similar seminar nine years ago, we didn't raise our hands either. When the speaker rephrased the question to, "Who among you have debts?" we wanted to raise both our hands and feet. We were buried in debt — a whopping seven figures from seven credit cards. We were a perfect financial disaster!
Fely and I spent sleepless nights brooding on where to get money for the next payment dues. We didn't even have enough for the minimum payments. Credit card companies put our cards on hold. We received more frequent calls reminding us of our obligations. So whenever the phone would ring, Fely's heart would beat faster and worries would cause headaches. We lived with so much tension. I felt imprisoned in a dark pit without a way out. Along with my mountain of debt, I faced issues and problems at work. I was like a walking bomb always ready to explode. I never thought getting into debt was dangerous to our health… and to our hair, too! (Check out my growing forehead.)
Whenever the due date for each of our seven cards approached, Fely and I would never have enough cash so we would swallow our pride and resort to borrowing money from friends. It was our most humiliating experience. We also made cash advances from one credit card to pay off another. And more often than not, we missed payments on due dates, which ballooned into late-payment charges from 3.5% to 5% per month. The most difficult months were those that coincided with the payment for the tuition fees of our four children.
We were caught in the debt trap which imprisoned us in a dark pit without hope of seeing the light of day.
It also caused us to think that the solution to debts is to take on more debts, plunging us even deeper into the darkness.
But what got us into this debt trap in the first place? This is what we want to share with you so that you won't make the same mistakes we did.
THE TOP FIVE MISTAKES WE MADE
Fely and I each received six-figure monthly incomes as managers in our respective companies. On the outside, we looked like successful career people living in a nice home, driving late-model cars, wearing branded clothes, and traveling abroad. But the truth was, we had a negative net worth in eight figures. Our cash flow was negative too — in the tens of thousands every month!
Our first major mistake: We bought things that were not necessary. We were suckers for new gadgets or appliances even if we didn't need them. Fely especially loved cameras. She bought one camera after another, even if the previous one still worked fine. She had the same love affair with cell phones. She would buy one after another and end up with two or three of them at a time. We would also buy TV sets even if we seldom watched TV!
We were drawn to midnight madness sales like bees to honey. One night, as if hypnotized by the four- letter word SALE, we bought appliances and gadgets worth more than P200,000 using our favorite credit card. We spent on things we actually didn't need using money we hadn't even earned.
Our bad practice of buying unnecessary stuff didn't end with gadgets or appliances. It also extended to our grocery shopping. Since we have four kids, each of them would buy their own brand of shampoo when they could just share. In essence, we also bought more than what is needed.
Second mistake: We bought things on credit and paid the minimum due. We had seven credit cards and looked at them as additional sources of funds to buy things we wanted. Then we just paid the minimum due.
We didn't pay attention to the interest charges that accumulated in time. Eventually, the amount we had to pay for each credit card reached the maximum. With no cash flow, we were soon defaulting on the minimum payments of each card, increasing our payables with penalty charges. This resulted to us having to pay more than double for the price of the things we bought.
Third mistake: We didn't manage our expenses. Instead, we resorted to getting loans. Fely and I changed our citizenship from being Filipinos to "Loandoners." We took any loan we could avail of. Name it, we had it: salary loan, Pag-IBIG loan, coop loan, SSS loan, pawnshop loan, even personal loans from friends. I failed to keep track of our expenses, didn't analyze what we were spending on, and spent beyond our means. So it goes beyond saying that I didn't know where our money went.
Fourth mistake: We spent money we had not yet earned. I expected a windfall from the sale of stock options and grants of the company we worked for. We also thought we'd get a large amount of money from the sale of a property owned by Fely's parents. So we purchased a lot and loaned money to construct our house. But none of the expected windfall came. So we ended up with more debts than assets.
Fifth mistake: We invested on liabilities with borrowed money. We were so financially ignorant we did not know the difference between assets and liabilities. Fely and I bought properties with borrowed money thinking that we were accumulating assets. We believed that our real estate investments would increase in value in time. But we failed to do our financial analysis. I didn't check if the real estate investments we made were viable projects, were in good locations and could generate income.
We bought a condo unit at 21% per annum compounded interest and, for more than five years, we neither used it nor rented it out. Aside from not generating any income, we even had to pay monthly association dues. We bought two residential lots that remained idle, yet we pay their annual real estate tax. Their value haven't appreciated much through the years either.
These top five mistakes brought us our hopeless and insurmountable seven-figure debt.
Now let me share with you other mistakes that people make when it comes to their finances. I learned these from those we've met in our numerous mission trips all over the Philippines and Asia.
DESPERATE THINGS DESPERATE PEOPLE DO
Seemingly hopeless situations can lead people to do desperate things. We've heard of people who took their own lives because of heavy debts they could no longer face. And Filipinos are not the only people who are afflicted by the debt disease. A friend told us that a week before we arrived in Vietnam to give a financial coaching seminar, a Vietnamese man jumped off their apartment building because he owed a lot of money. It was a similar story we heard in Singapore. A man jumped onto the track of an oncoming train to escape his financial obligations. In Dubai, it was even on the front page: Filipinos were in jail because of credit card debts. In the U.S., we have family and close friends who had their homes foreclosed because of unpaid amortization.
Many people all over the world are indebted for one reason or another. Let me share with you three stories of real people whose names I've changed.
Financial Black Hole
Rose had eight-figure debts. She had many properties but none of them were performing assets. Her monthly expenses to maintain her properties and numerous vehicles were way beyond her means. Her family are politicians in their home province and she spent several millions when she ran for public office in the last elections. Unfortunately or fortunately, she lost.
We see two mistakes that Rose committed. First, she accumulated nonperforming assets. She had created a financial black hole that sucked in her family's income. The associated costs to maintain her cars and houses only made that hole deeper and wider, causing her cash flow to be perennially negative. Add to this her second mistake, which is spending too much on her political ambitions. I dared not ask or speculate on how she hoped to recover what she spent on her campaign.
Hit by the Economic Crisis
Roger is another person who owed a lot of money. His case is common to many Filipinos whose parents or siblings go through a medical crisis. Most people do not even prepare for their own long-term healthcare needs, what more for their parents or siblings. This is a real and widespread mistake for most Filipinos. You see, Roger's mother had a stroke, not just once, but three times. This plunged Roger's family into deep debt.
Being the eldest in the family and still single set him up to take care of his mother's needs. Good thing Roger was earning well from his commissions as a top-notch salesman and could afford to pay for his mother's health bills since she didn't have insurance.
Then an economic crisis hit the U.S. in 2008 that affected Roger's company.
He didn't have an emergency fund, so when his mother's hospital and medicine bills ran into millions of pesos, Roger resorted to borrowing money from relatives and friends. And with the U.S. recession affecting their company, his commissions ran dry.
Debt Storm
Ruby is a high flyer both in her academics and in her career. While her peers struggled to land a good- paying job, she was already earning a six-figure income. She was happily married and had a kid. She had many friends. But her life took a nosedive when she committed a big financial mistake. She got into a business partnership that she didn't completely understand.
In spite of her business losses, she remained complacent since she still had a day job. She thought that the solution to their business problem was to infuse more capital, so she borrowed money from family and friends and from her credit cards. She was confident she could pay it off with her salary and bonuses. But the unexpected happened. She was forced to resign from her job. She began to default on payments to her loans. She resorted to heavier borrowing — even at interest rates of 20% a month. It was a desperate move that led to further desperation.
Ruby had no emergency funds or savings, so she had to pawn and sell whatever she could for four months to support her needs. She was jobless, without any income and with lots of arrears. It was a perfect "debt storm." Her marriage collapsed with the pressure, and she and her husband split up. Many of her friends abandoned her. Her consolation was that her family had been supportive in her plight.
Ruby committed the mistake of getting into a business that was not her competency. She also failed to get a coach.
Rose, Roger and Ruby went through painful experiences and mistakes that caused them to sink into the debt trap. Like us, they got into our financial woes because they were financially ignorant and comfortably earning a living through employment, which was not as permanent as we think. Like us, they resorted to too much borrowing instead of doing the right thing.
The paradox in our case is that Fely and I knew how to cut down our companies' costs and streamline our operations for profitability. But we didn't know how to apply that to our personal finances. So we had to seek wisdom by attending seminars that increased our financial intelligence. We had to look for coaches to teach us how to rise from our debts.
*This excerpt is taken from Debt Destroyers by Benj and Fely Santiago.

---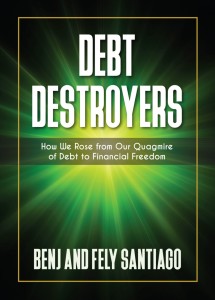 Benj and Fely are debtaholicswho thought that they were doing OK. They had great jobs, earned well and spent evenbetter. They treated every new credit card they acquired as an additional income source. They squandered money they hadn't even earned. In no time, they were buried in seven-digit debts.
In this book, Benj and Fely share their horrendous experience of financial disaster, but even more importantly, how they rose from the debt. Today, they are financial advisors who've helped many families break free from the debt trap.
Here, you will learn how to:
– Craft your own financial plan
– Build a solid financial foundation
– Manage and eliminate debt
– Invest with a purpose
– Earn passive income
– And many more concepts that will set you on the road to financial freedom!
---
DO YOU WANT TO RISE FROM QUAGMIRE OF DEBT TO FINANCIAL FREEDOM?
GET YOUR COPY OF BENJ AND FELY SANTIAGO'S BOOK,
DEBT DESTROYERS
You don't even have to leave the comforts of your home.
You can buy your own copies online!
Here's how:
FOR PAPERBACK and DIGITAL versions:
Visit www.KerygmaBooks.com/shop and click on the titles that you want to order.
Choose PAPERBACK or DIGITAL and check out your order.
Choose your payment method.
Pay via bank deposit or PayPal.
a. For bank deposit: pay your balance and upload your deposit slip at the link we've e-mailed to you upon placing your order.
b. Pay directly via PayPal.
For PAPERBACK: Wait for the books to be delivered right to your home! (For orders P500.00 and up, FREE shipping within Metro Manila only. Standard shipping rates apply for orders below P500.00 or outside Metro Manila.)
For DIGITAL: Wait for the confirmation of receipt of payment. The download links to your books is included in the email.
---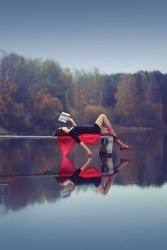 NURTURE YOUR SOUL EVERY DAY!
Visit us at

www.KerygmaBooks.com

 and read our online magazine. Enjoy fresh articles that will surely nourish, inspire, and empower you in all aspects of your life. Kerygma Books is updated weekly.
Email us at editor.kerygmaonline@gmail.com for comments, suggestions and contributions.
Photo credit: http://piccsy.com/2011/05/reading-8ozcw6p11/ through vi.sualize.us