Dark, Dirty, and Dangerous
by Bo Sanchez
One day, as part of investigating various companies in the stock market, I had to study about gold mines. My friend told me, "A gold mine has three Ds: It's dark, dirty, and dangerous."
First, it's dark. You can't see a thing. He said when you mine for gold, you go down as much as three thousand meters deep into the earth. There's no sunlight down there. But that's where you find gold.
Second, it's dirty. That's why when you mine for gold, you won't look pretty. You won't look hip. You'll sweat like a dog. You'll smell like a horse. You'll look like a pig. But that's where you find gold.
Third, it's dangerous. He said when you mine for gold, you may get hurt. You may get burned. You may get sick. You may even die. But that's where you find gold.
Your Pothole Is a Gold Mine
I have an announcement to make: If you feel like you're in a deep pothole, then I'm sure it's also dark, dirty, and dangerous. Then that means it's not just a pothole. It's also a gold mine.
In a gold mine, you're surrounded by gold. The problem is that you can't see the gold because it's covered by darkness, dirt, and danger. Do you have a lot of problems today? The more problems you have, the more gold you have. Every problem that you have will transform into gold.
That is why we can say, "All is well."
All Is Well
This story happened many years ago in Africa.
A king had a friend whom everyone called Sunny because he had a very sunny outlook in life. No matter what happened to him, whether good or bad, he'd always say, "All is well!"
If the sun was too hot, he'd say, "All is well! This sun is a blessing." If it rained cats and dogs, cows and carabaos, he'd still say, "All is well. The rain is a blessing."
One day, Sunny and the king went hunting. Sunny's job was to load the riffle for the monarch. But Sunny loaded the gun in a wrong way because when he gave it to the king, it fired by itself and blew off the royal's thumb.
The king screamed in pain. In his rage, he sent his friend Sunny to prison.
Many months later, the king was hunting again. He hunted in a dangerous jungle where cannibals lived.
Unfortunately, the cannibal tribe captured the king, tied him up, and hung him on a tree. Then they lit a fire beneath him.
That was when one of the cannibals noticed that the king had a missing thumb. These cannibals had taste: They didn't like to eat leftovers. In their minds, someone had eaten his thumb and didn't like it, that's why they didn't eat the rest of his body.
So the cannibals released the king and he walked away unharmed.
As the king returned home, he remembered his friend Sunny in jail and regretted sending him there.
When he visited his friend in jail, the king told the story of how having a missing thumb saved him from the cannibals. He then said to Sunny, "I'm so sorry for sending you to jail."
Sunny smiled and said, "All is well! Prison was a blessing."
The king asked, "How could you say all is well? You got stuck here in jail for one year!"
Sunny said, "If I wasn't in jail, I would have been hunting with you today. And I don't have a missing thumb!"
It's so difficult to say "All is well " when trials come upon our lives. But that's the truth. No matter what happens, believe that "all things will work for good for those who love Him" (Romans 8:28).
Jesus Bounced
I love the Easter story.
On Good Friday, Mary Magdalene fell into a gigantic pothole. She saw Jesus die—and all her hopes died with Him. In her mind, even when it was already Sunday, she still thought it was Friday.
Perhaps you're like Mary Magdalene. You're grieving right now because you lost something. Perhaps you lost a loved one. Or you lost your health. Or you lost your job. Or you lost your hope.
On Easter Sunday, Mary Magdalene went to the tomb to grieve. The Bible says, "Now on the first day of the week Mary Magdalene came to the tomb early, while it was still dark, and saw that the stone had been taken away from the tomb" (John 20:1).
She went to the tomb because the reason for her grief was in the tomb. But that was because she thought it was Friday. She didn't know it was Sunday. Because on Sunday, the reason for her grief was gone.
Let me speak to you: Today may be Friday in your life, but your Sunday is coming. A day will come when you'll go to the tomb to grieve as usual, only to find out that the reason for your grief is gone.
On your Easter, God will remove the reason for your grief.
What am I saying?
On Easter Sunday, Jesus bounced.
He was supposed to be finished. Dead. Lost. Defeated. But Jesus was unbreakable. From the grave, He bounced. The Bible says that the same power that caused Him to bounce is the same power that is at work in you (see Romans 8:11). You too can bounce from the grave. You too can bounce from your defeat. You too can bounce from your failure.
My dear friend, bounce.
Shout it out: All is well.
*This excerpt is taken from Break or Bounce? by Bo Sanchez.
Photo from Unsplash.com.
---

'The Harder I Fall, The Higher I Fly.'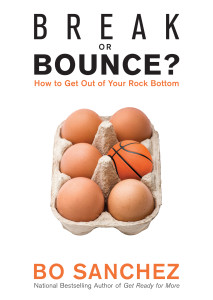 Have you failed? Have you fallen on hard times? Are you going through your toughest struggles? Are you walking to your darkest days?
This amazing book is the answer to your prayers. Because every page is brimming with powerful encouragement from Bo Sanchez, a leader whose words—for the past forty years—have changed the lives of countless people.
In every chapter, he gives you a massive dose of inspiration so you can keep moving forward—until your storm ends and a new morning rises in your life.
Through the message you hold in your hands, you'll receive the power to use your biggest problems to leapfrog to your biggest victory.
Click HERE to get a copy of Break or Bounce? (How to Get Out of Your Rock Bottom) by Bo Sanchez and have it delivered right to your doorstep!
---
ARE YOU READY TO LET GOD HELP YOU GET OUT OF YOUR MISERY? 
GET YOUR COPY OF BO SANCHEZ'S BOOK, BREAK OR BOUNCE?
(HOW TO GET OUT OF YOUR COMFORT ZONE)
You don't even have to leave the comforts of your home.
You can buy your own copies online!
Here's how:
FOR PAPERBACK and DIGITAL versions:
Visit www.feastbooks.ph and click on the titles that you want to order.
Choose PAPERBACK or DIGITAL and check out your order.
Choose your payment method.
Pay via bank deposit or PayPal.
a. For bank deposit: pay your balance and upload your deposit slip at the link we've e-mailed to you upon placing your order.
b. Pay directly via PayPal.
For PAPERBACK: Wait for the books to be delivered right to your home! (For orders P1,500.00 and up, FREE shipping within Metro Manila only. Standard shipping rates apply for orders below P1,500.00 or outside Metro Manila.)
For DIGITAL: Wait for the confirmation of receipt of payment. The download links to your books is included in the email.